BullVPN Affiliate Program
Make money easily, just share the link from the BullVPN Affiliate Program.
BullVPN proudly presents our great feature, A BullVPN Affiliate Program. If you are Youtuber, Streamer, Page-Owner (ex. Facebook), Gamer. We offer you a chance to earn a lifetime commission through our services.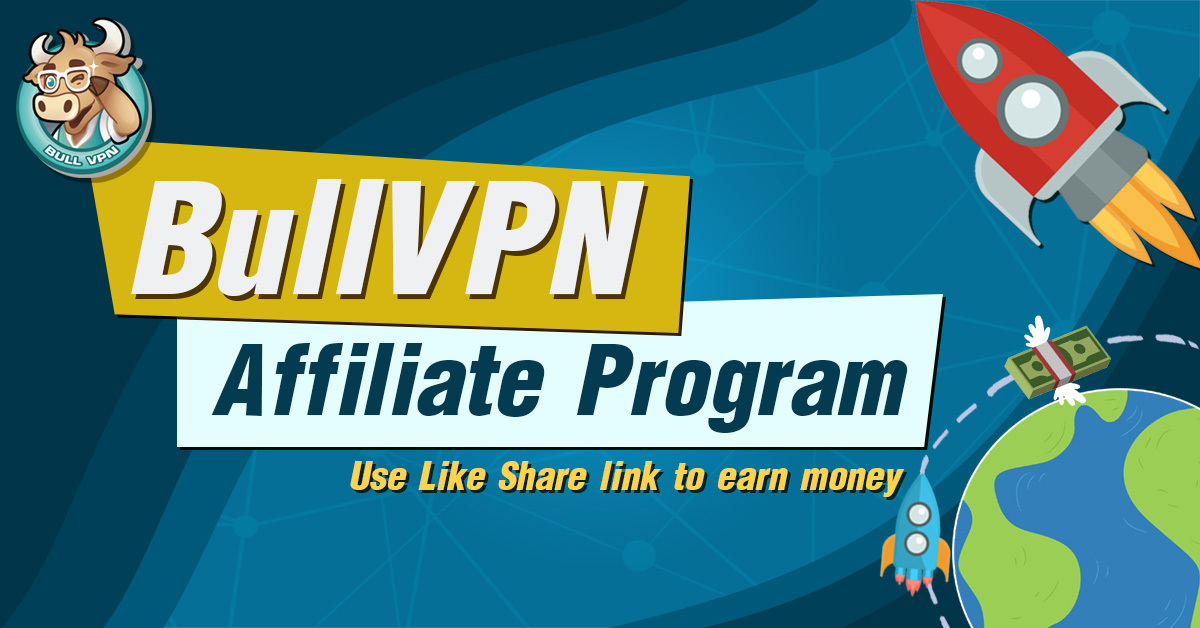 Did you know that BullVPN users have many users, both in Thailand and overseas? Especially for customers who travel to China, stay in China, or travel to China, those staying in or overseas who are blocked by IP People who want to conceal their identity and want security on the internet. People who want to reduce lag, ping, want the stability of the internet. For playing online games and many more
You can recommend these people to use BullVPN and you will receive compensation with us.
Commission Price
Standard commission 5% - 20%
The additional benefits of your follower's payment.
Commission Transfer
Withdraw Minimum: 200 Bath or 10 $
Processing time: 10 - 15 days
Payment: Paypal, Banking and True Wallet
Commission Percent
Banking: 20%
True Wallet: 20%
QR Code / Internet Banking : 10%
Credit Card / Debit Card: 10%
Paypal: 10%
True Money: 5%
Bonus and Benefits
Your Page, Blog, the community will be promoted by our official Website and Facebook page.
You will receive helpful advice for promoting and planning.
If you reaching our goal, We will organize activities or events just for you.
How to Join our BullVPN Affiliate Program?
Step 1 Register
Register at: www.bullvpn.com
Log in at our website and go to www.bullvpn.com/affiliates, then press 'Join Affiliate' button
Step 2 Share Link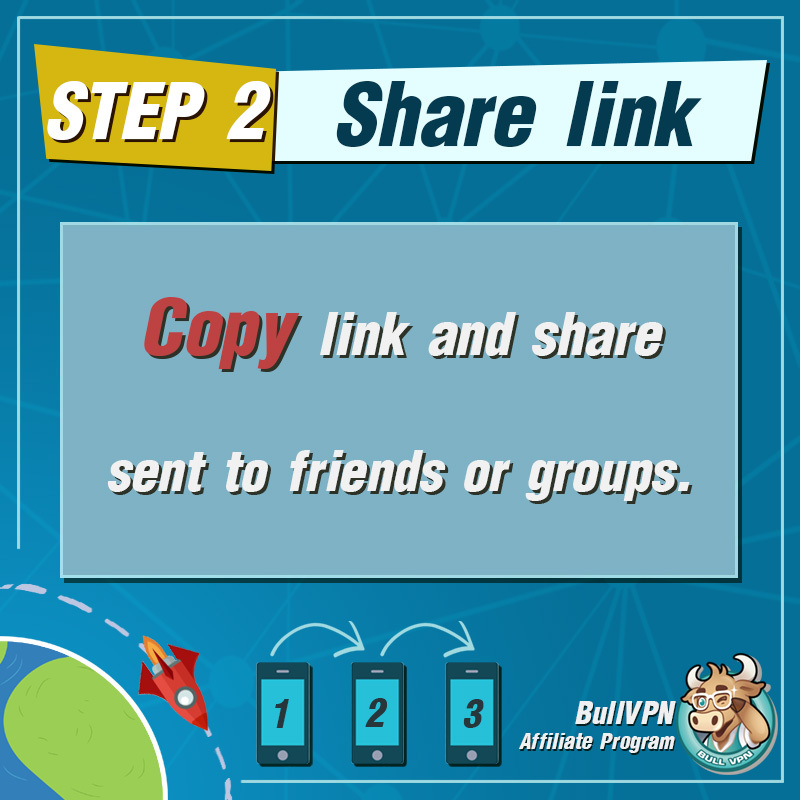 Dashboard BullVPN Affiliate Program
How to promote BullVPN?
Promote on Facebook.
Promote on blogs, articles, or your own pages/website.
Advise your friends by sending your URL to them.
Live stream or video content.
Step 3 Follow up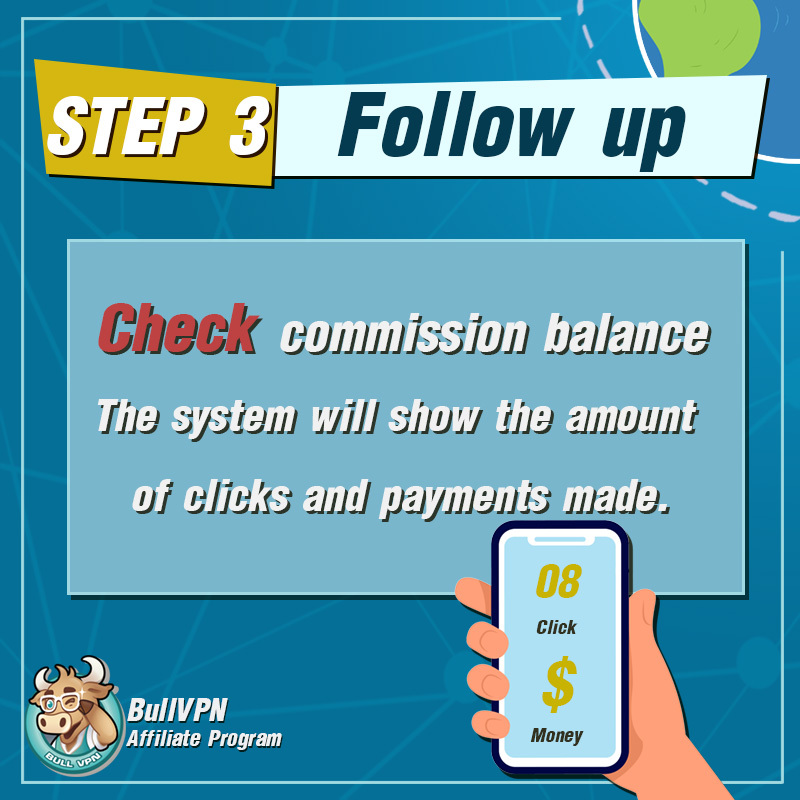 Menu Register
Menu Payment
Step 4 Get Money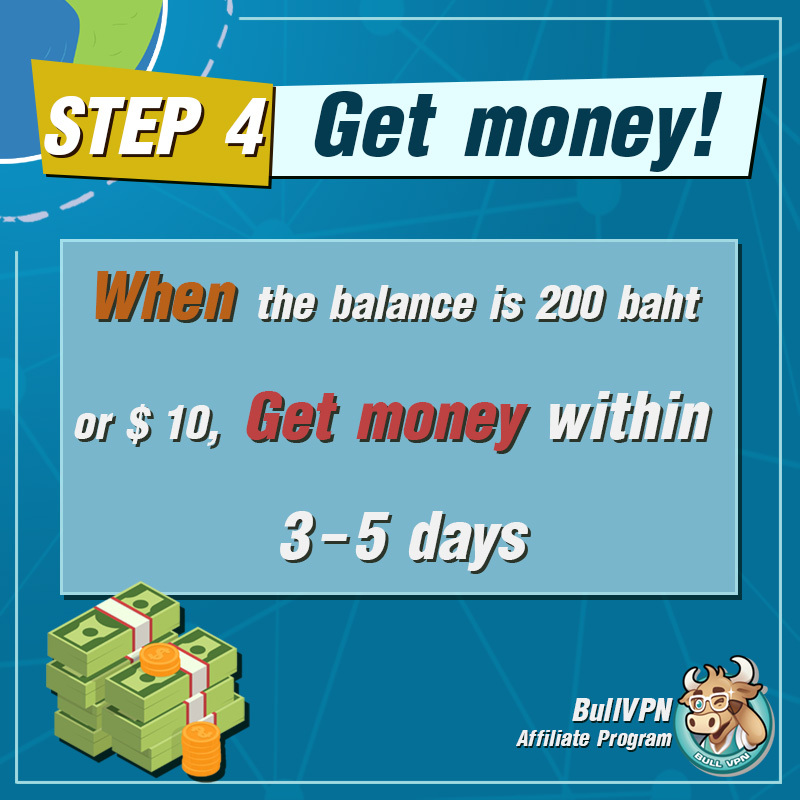 Menu Transfer
Menu Transfer History
Summarized BullVPN Affiliate Program steps
Register BullVPN
Share Link
Follow up
Get Money

Why use BullVPN?
✅ Hide your IP address
✅ Access blocked websites
✅ VPN servers in 50 Servers in 15 countries.
✅ Lag reduced and ping Games
✅ Supports Windows, Mac, iPhone, Android, Chrome Extension
✅ Trusted by over a hundred thousand users worldwide